Hey Everyone!
Man what a crazy last 2 weeks it's been. My apologies for getting started late this past Tuesday. Looks like most of all the kinks are worked out of the software and it seems to be running really well. BUT, please let me know if you see a mistake on anything (one minor error can lead to others) it's better to catch things in the beginning rather after they pile up.
GREAT job to a lot of you! I see quite a few people headed up the ranks! And remember, now more than ever in the past, EVERYONE has a chance to be playing on the table they belong on. I know for some of you that worked REALLY hard using the past rating system to get up to higher tables may feel like it's making it too easy now. Just remember that our goal is to have everyone rated MORE USATT ACCURATE. That means we need more points in the mix (most of us are rated too low). It's hard to win 4 & 0 but if someone has a good night and moves up the next week they'll move back down the following week and points be given to the other players.
That being said no grumbling this Tuesday when 4 and 0 players move up to the next table!
(ONE THING… 2 weeks in a row we have had people that came to play that found our flyer in the Hmart "asian grocery store" and no one has shown up to play. We don't want to lose Saturdays so please if you can make an effort to show up and play from 3 to 6 that would be GREAT!) Thanks
Here's the results!
WEEK 13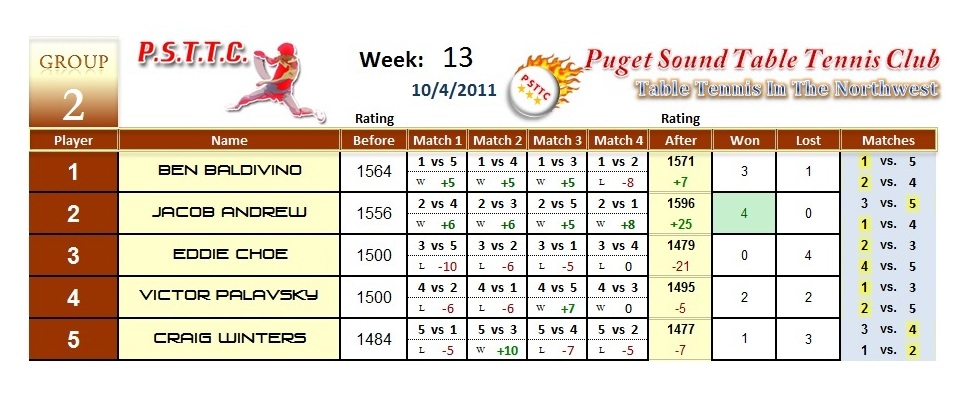 Week 14